Moving into your home is a very exciting time but it's worrying if you can't afford to furnish it. Hastoe Resident Champion, Nina Raisbury, experienced this when she moved into her current one-bed flat in December 2018. Buying all new furniture and decorations wasn't an option for Nina. She had to get creative with DIY projects and savvy shopping. It took Nina until the end of summer 2023 to finish her project. It was finished with an estimated total cost of only £295.
Nina explained that, "The journey took time and effort. There was always part of the flat that I was apologising to visitors about not being finished." Now, Nina is extremely proud of her home. She is sharing how she found her bargains and how she upcycled second-hand furniture. As well as sharing her top tips for furnishing your home at little to no cost.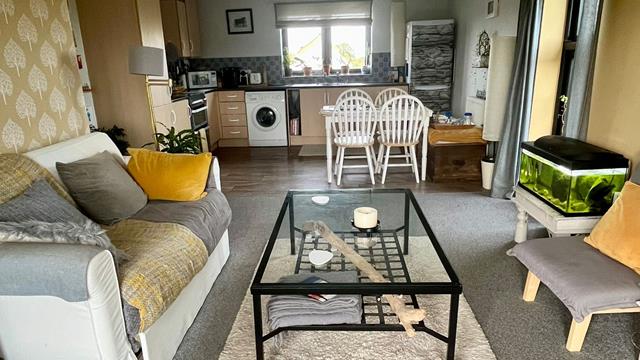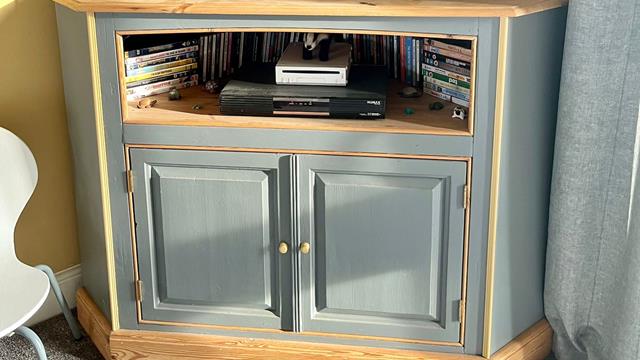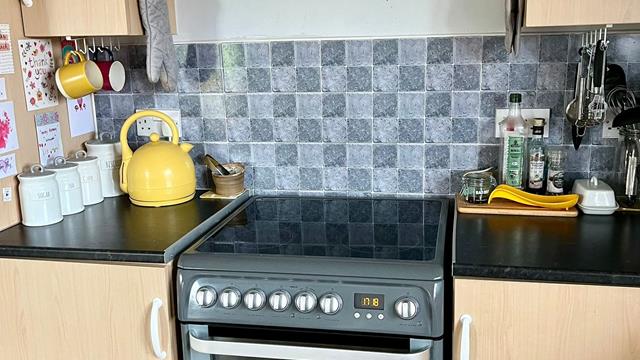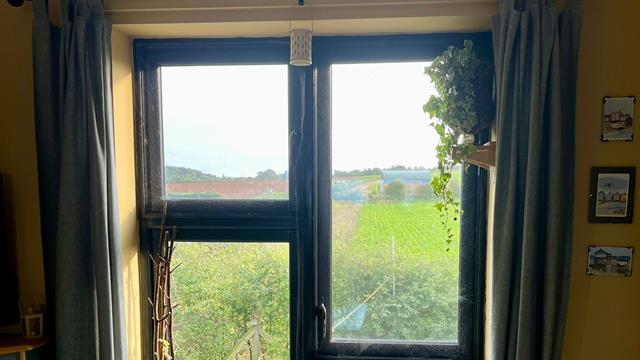 When Nina first moved into her home, it had carpets and flooring left by her brother and his partner. They had just moved out. By not being afraid to ask friends, family and colleagues for furniture that would otherwise be thrown away, Nina was able to secure her first items from an estate sale of a colleague's mother-in-law. Her father paid £200 for a bundle of second hand furniture. This included an old kitchen table, chairs, dresser and bedside cabinets. After a while of making do with the furniture as it was, the inspiration to start her DIY projects came when a friend commented, "It was so much nicer when your brother lived here."
Nina started researching DIY and upcycling ideas online. When Covid hit, she found herself with the time to make a start. She says, "It kept me busy when we couldn't go out. Living on my own during that time was quite hard. It gave me some entertainment as well as being practical." Nina started looking on Facebook Marketplace and found the following: 
Two paper lamps - £5 
Two sets of garden tiles - free
Three tins of paint - £5
Living room chair - £5
Set of six wooden door knobs - £2
A Rug from Next - £5
Corner shelves - £2
She also used Facebook to buy her essential DIY tools: a mouse sander (£3) and a hot glue gun (£5). A £20 Amazon voucher, gifted by a friend, helped Nina buy some rope, three grout pens and two rolls of washi tape (water-resistant coloured masking tape). Other budget-friendly options Nina recommends include Gumtree, Freegle, village fêtes, car boot sales and charity shops.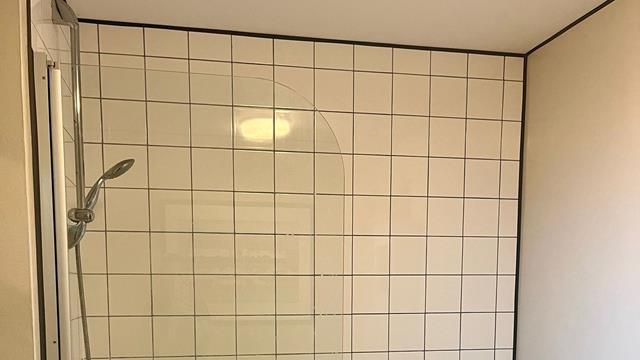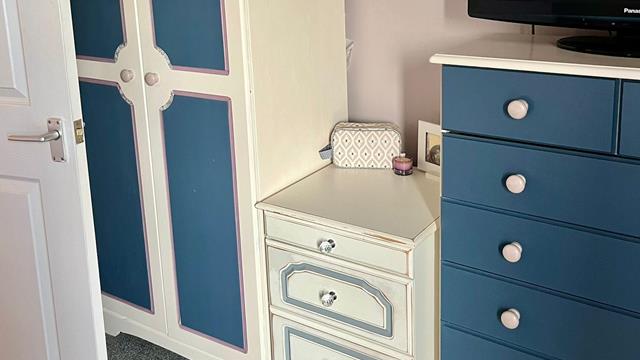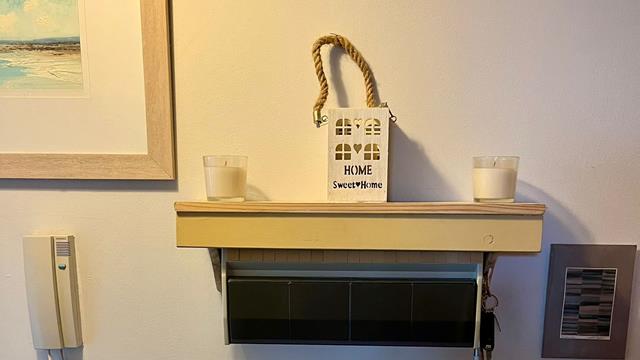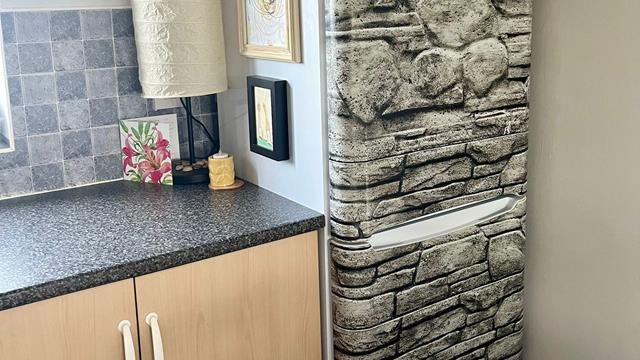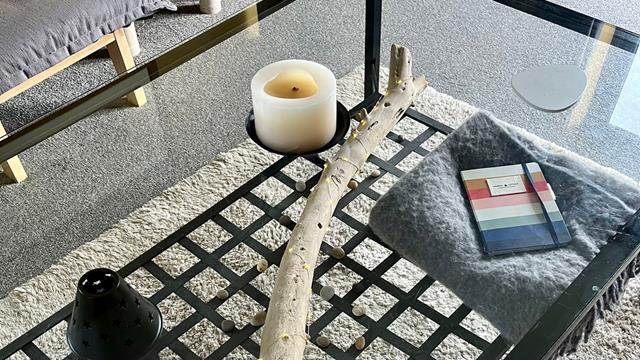 Nina invested over 30 hours painstakingly measuring and fitting tile-effect stickers (£18 - Ebay) over the mismatched kitchen walls. This saved herself the large bill for a professional kitchen re-fit. She says her Dad never believed it would work so getting to show him was one of her favourite moments. Another of Nina's biggest challenges was finding a way to upcycle her rust-covered fridge, as paint wouldn't cover it. In the end, she found a stone effect vinyl door wrap (£10 - Ebay). It transformed the fridge into an eye-catching kitchen feature. The dining table and chairs were the most labour-intensive project. Nina sanded every surface, chipped out unwanted tiles in the table and painted the whole set.
In the bathroom, Nina glued some thin rope around the edges of the room and around the light fitting. This covered any untidy paint lines. She used washi tape to do the same around the edges of the ceiling. The grout pen saved the tiles in the shower, giving a very neat and newly-finished effect. Nina noted that these changes were made three years ago and they still look as smart as day one. Nina upcycled an old, rusty laundry basket into a bathroom storage feature. She used some paint and ribbon (saved from some Primark bedding set packaging!). She says:
Nina's proudest DIY project is her shelving around the fuse box in her hallway. She noticed that a neighbour had some mouldy shelving packages abandoned in his garden. She asked if she could use them and he agreed. Nina treated the mould herself and cut the wood to size. Then she was able to make a collapsible shelf so that she could still get to the fuse box. Some grey vinyl stickers over the see-through panels finished the project, bringing the grand total to £0. She says: 
A makeup bag ended up being the inspiration for Nina's bedroom colour scheme of lilac, blue and ivory. She did all the sanding and painting herself, using the tins of paint she had bought on Facebook Marketplace. To add extra details, she used washi tape around the cupboard doors. Then she glued wooden beading in between the ceiling and the walls to hide cutting in lines. She painted the set of wooden knobs and used them on different items of bedroom furniture to help them match. Painting the bathroom presented a new challenge as a friend noticed that normal paint won't work in the humid environment. Nina was able to find her solution online - she painted over her normal paint with a clear varnish. 
Nina was given two curtains as a moving-in present but she needed three to cover the living room windows. She didn't want to waste them. Instead, she cut the curtains down to size and used some hemming web (£2, Amazon) to neaten the ends. The material was enough for the windows, a homemade bathroom blind, some sofa arm covers and a DIY phone stand.
Today, Nina is finally happy with the results of her upcycling and DIY projects. However, she is still looking out for some bargain book shelving and some matching throws, proving that patience is key!