The completion of 15 new rural homes that are affordable for local people were celebrated by the community of Icklesham in East Sussex on Friday 14 July 2023.
Prior to the houses being built, there were a total of 167 affordable homes in the area of Icklesham. The 15 new homes represent a 9% increase in social housing provision, making a significant difference to the lives of local people in the Parish. The homes at Orchard Close will remain affordable and for local people in perpetuity.
All partners, as well as local Parish and District councillors, attended the official completion of works including residents who had moved in this year. The occasion was commemorated with the cutting of a ribbon.
Photos by Paul Starr
Speaking at the event, Geoff Foot, Chairman of Icklesham Parish Community Land Trust, said: "For many years Icklesham Parish Council has been concerned at the dearth of local affordable housing due to rising local house prices and the lack of affordable housing options. Younger families were having to leave the villages, or were having to live in unsuitable accommodation. We received over 500 bids for the houses and a number of deserving applicants had to be turned down. Certainly for me it brought home the scale of the problem with the lack of local affordable housing, both here and across the district."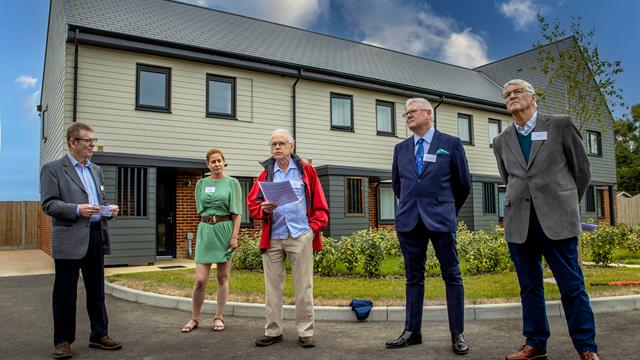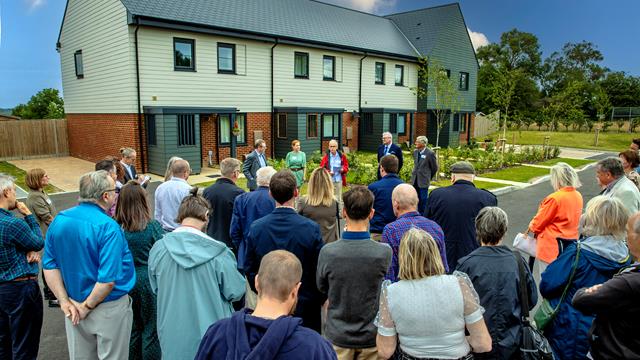 The Icklesham Parish Community Land Trust played a pivotal role in the development of the site working in partnership with Icklesham Parish Council and with the invaluable help of the Sussex Community Housing Hub without which the project would never have got off the ground. Other partners included Rother District Council, Hastoe Housing Association, ECE Architecture, Westridge Construction Limited and employer's agent McCreith Construction Consultants.
Works to build the new houses began on site in June 2021 and were completed in August 2022 with all homes built to a high standard of energy efficiency. Hastoe Housing invested £2,130,260 into the development, with a further £1,068,000 from Homes England and a grant of £297,000 from Rother District Council.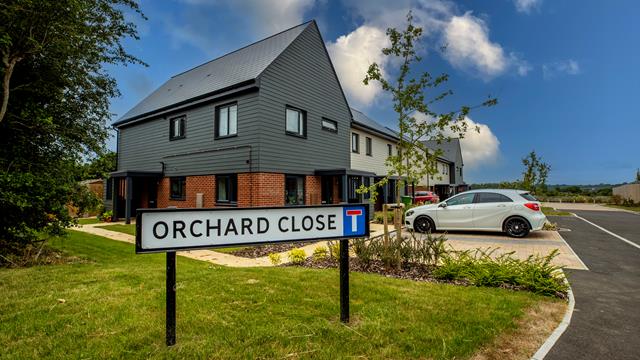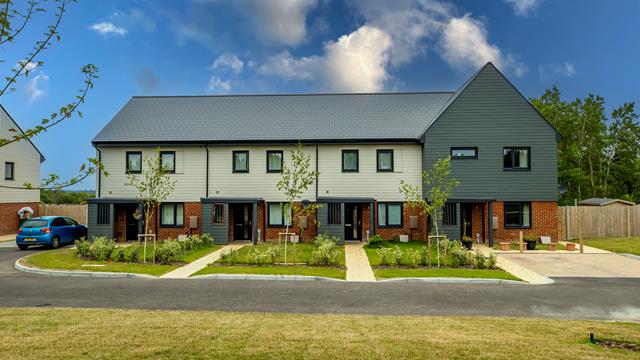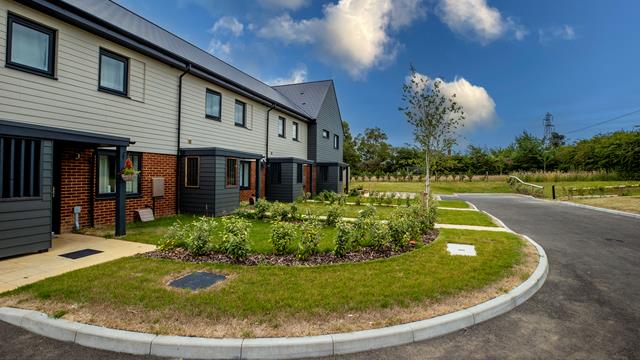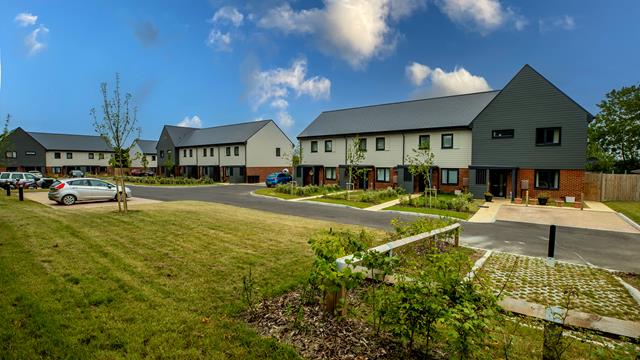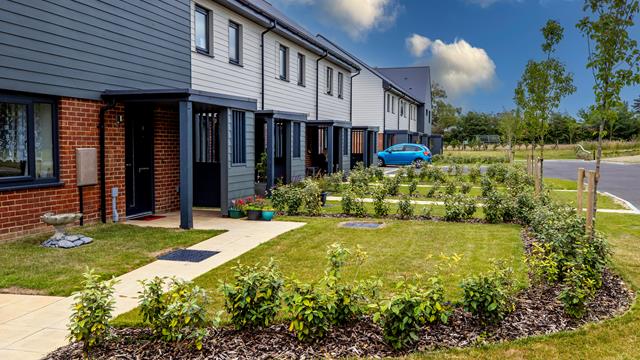 The land, which was originally owned by local residents Eric and Wendy Hysted, was purchased by Icklesham Parish Community Land Trust (IPCLT) and then leased to Hastoe Housing Association to develop and manage the homes on their behalf.
"Wendy and I are very pleased to have been able to play a part in bringing this project to life" said Eric Hysted. "Having brought up two daughters in the village ourselves, who eventually needed homes of their own, we could really see the benefit of supporting a very locally-focused housing scheme. It would provide young families in particular with the opportunity to live locally and, over time, the younger element would greatly benefit our village attending the village school and supporting local clubs, pubs, etc."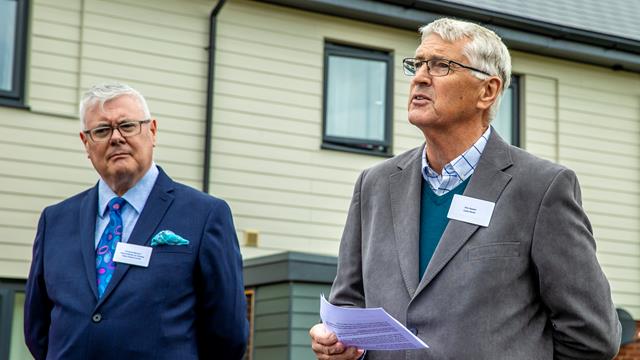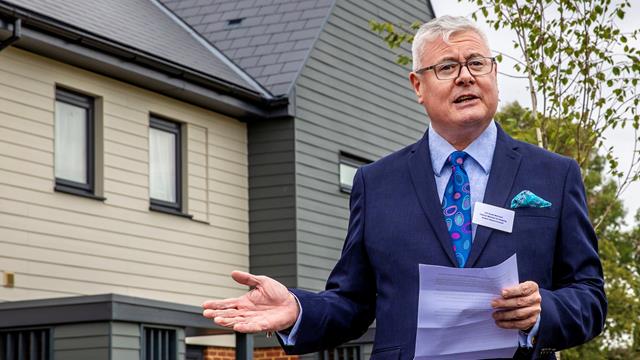 Cllr Ruairí McCourt, Cabinet Member for Housing at Rother District Council, said: "I would like to thank all the partners involved for their work on this fantastic project. We are really keen to see more social and affordable housing across the district which will help tackle homelessness and insecure housing. Decent, secure housing – like these wonderful homes at Icklesham – not only boosts the health and wellbeing of their residents, but they also help to create sustainable communities for local people well into the future."
Fifteen homes have been developed at Orchard Close on the former agricultural land: 12 for social rent and 3 for shared ownership. All homes have been prioritised for people with a local connection to the Civil Parish of Icklesham, such as those working in the village, those with close family in the area, or those who have previously lived there but have been forced to move out because of a lack of affordable housing.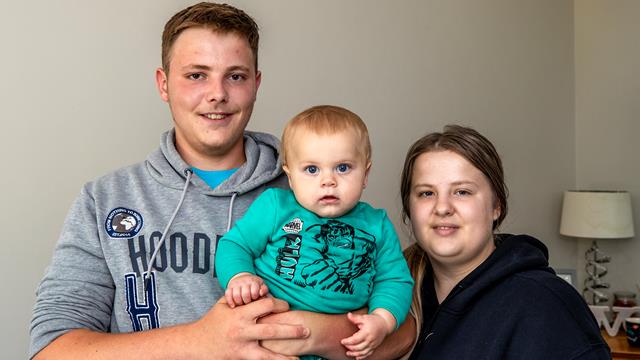 New tenants, Libby and George, said: "Where we lived before there were 7 of us in a small 3-bedroom house and we were living on top of each other. Then me and my partner moved here and our son was born a few weeks later. It's made a massive difference to our lives, having our own home, having lots of space and a garden. I love it."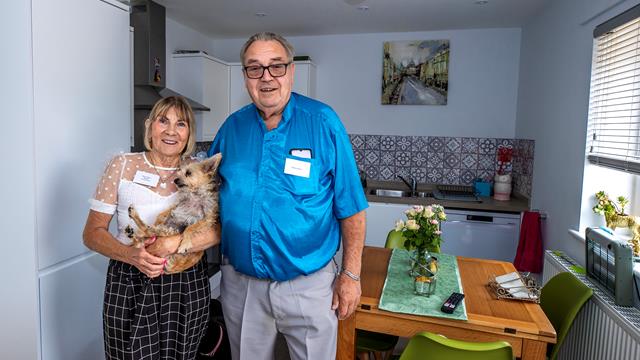 Resident, Rowland Gardner, said: "I've lived in Icklesham previously for around 20 years. Sheila and me lived in a park home prior to our move here. We're delighted with our new home."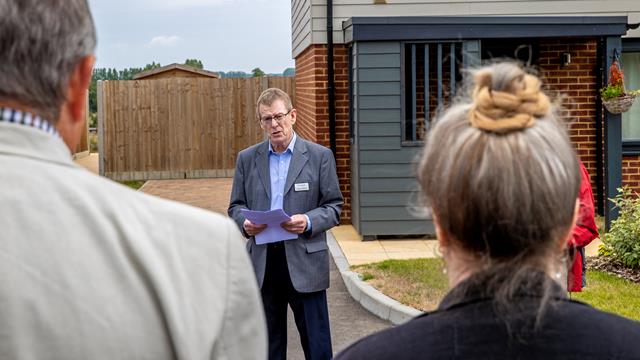 Hastoe Housing will now manage the houses on behalf of the CLT. Board Member, Robert Rutledge, said: "On behalf of Hastoe, I would like to congratulate everyone on the completion of these fantastic homes. I know that 15 homes doesn't sound like a lot, but they represent a 9% increase in social housing provision in the Parish and they have certainly make a huge difference to the lives of the people who live in them. What's more, homes built by CLTs cannot be sold off, so these homes will be kept for the benefit of the community in perpetuity."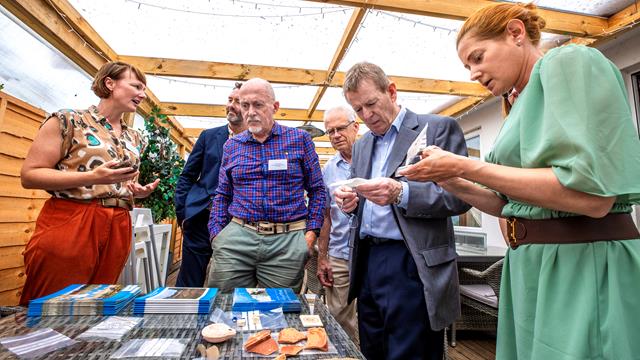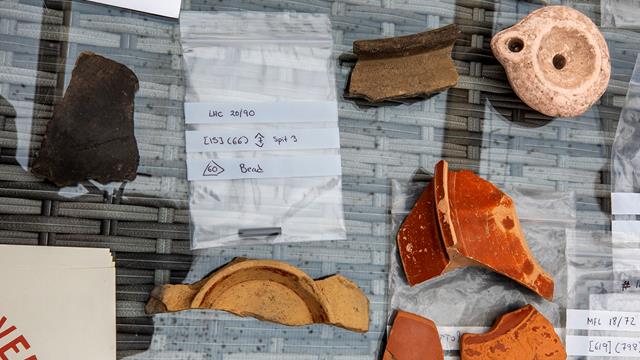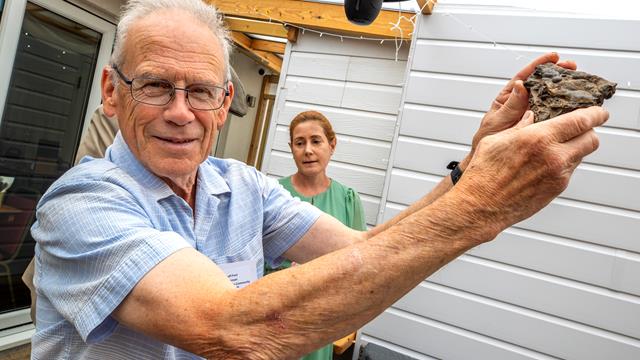 Before construction started, an archaeological survey was carried out at the site and small pieces of broken Roman pottery were found along with the remains of a Roman Cremation Vessel. There was also an unusual find with evidence of a cremation burial inside a square-ditched enclosure – possibly that of a child. It is not known if the excavated deposits were self-contained or are part of a larger settled area.