The development of 4 new sustainable homes for social rent was celebrated by Hastoe and the community of Uttlesford District on Monday 10 October 2022.

The new homes in the village of High Easter in Essex are the first to be built to a new sustainable standard developed by Hastoe in 2021. The new sustainable standard adopts a fabric-first approach; reducing carbon emissions and saving residents money on their heating bills. All homes have air-source heat pumps and incorporate other key elements of the such as reduced water consumption, local vernacular design, minimal impact on the environment, Nationally Described Space Standards (NDSS), accessibility and future-proofing features such as discreet charging points for electric vehicles.
With the support of the local Rural Housing Enabler and Rural Community Council of Essex to identify a suitable site and appropriate housing need, works began on site in March 2021 and were completed in March 2022. The homes were developed in partnership with High Easter Parish Council, Uttlesford District Council, building contractor TJ Evers Limited, and architects and employer's agent, The Design Partnership.

Hastoe invested £535,000 into the development along with a £60,000 Recycled Capital Grant Fund and £374,000 from Homes England.

Care was also taken to retain the mature hedging and trees to the front of the site and provide a landscaped buffer to the rear and side to soften the transition to rural farmland. Bat and bird boxes have been incorporated with external lighting designed to be 'friendly' to bats and other wildlife present in the area.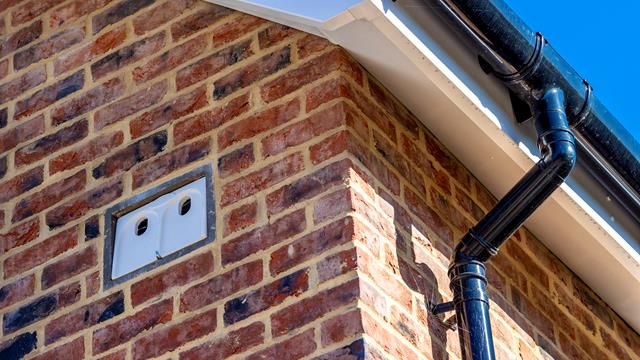 Once owned by the Jerram family, the former greenfield site now provides four new homes: three 2-bedroom houses and one 3-bedroom house, all for social rent. The name of the homes 'Mounsdon Lodges' pays tribute to two distinct parts of the village's history. 'Mounsdon' gives due recognition to the Battle of Britain RAF Pilot, Flight Lieutenant Maurice Mounsdon, who was badly burned when shot down in 1940, and parachuted into a field opposite where the houses now stand. Meanwhile, 'Lodges' recognises the family run coach company that has been an integral part of the village's economy since 1920.

Residents as well as development partners attended the event to mark the official completion of works. The occasion was commemorated with the cutting of a ribbon.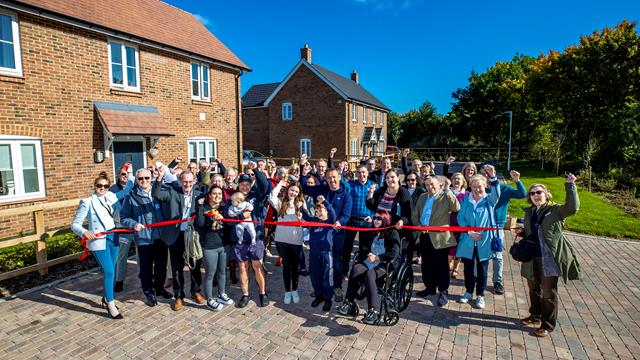 Chris Parsons, Hastoe Board Member, said: "These homes are the first to be completed to Hastoe's new sustainable standard developed in 2021. We have always prided ourselves on the quality of our homes but this new standard has enabled us to introduce efficiencies and a level of standardisation that will improve value for money. The development of Hastoe's New-Build Standard also ensures we are on the right trajectory to meet future changes in government building and safety regulation, such as the Future Homes Standard of 2025 and the zero carbon emissions target set for 2050.
"Hastoe is honoured to have worked alongside everyone involved in delivering these 4 homes for social rent. As a social landlord and housing developer, Hastoe remains committed to building sustainable homes for sustainable communities."
Resident, Keith Chapman, said: "Knowing I was going to be moving into a new home with my son and daughter was the light at the end of the tunnel. It's been a very difficult few years and now we've moved in I feel we can start living again.
A Homes England spokesperson said: "Despite the current challenges affecting the country, accelerating housebuilding remains our number one priority. We are committed to supporting Hastoe Housing Association that has ambitions to build new homes, and our investment through an affordable housing grant allows us to do that. We're delighted that this funding will enable Hastoe Housing Association to deliver much needed new homes in High Easter, Chelmsford."
Councillor Petrina Lees, Leader of Uttlesford District Council, said: "On behalf of Uttlesford District Council, I would like to thank everyone for working so cohesively. It's always great when people work together for the greater good. I wish people health and happiness in their new homes."
Councillor Susan Barker, Ward Councillor for High Easter and the Rodings, said: "I too would like to welcome our new residents and expect it won't be very long before they become an integral part of village life."
Councillor Neil Reeve, District and High Easter Parish Councillor, said: "This is a good day for High Easter and, while we want to welcome our new residents, I also want to thank all our parish councillors who have worked so hard to ensure these new homes could be built. A development project like this is never easy. It involves many meetings, many discussions, not to mention a few arguments, but we have achieved what we set out to do and the village can be very proud not only of its new homes but of their high quality and sustainable credentials."