Construction has begun for the first-of-its-kind regeneration of a historic community hospital in the East Suffolk town of Southwold. Development partners SouthGen, Hastoe Housing Association and Wellington Construction Ltd were joined by Suffolk Coastal MP, Thérèse Coffey, and local councillors on Friday 19 July to mark the occasion.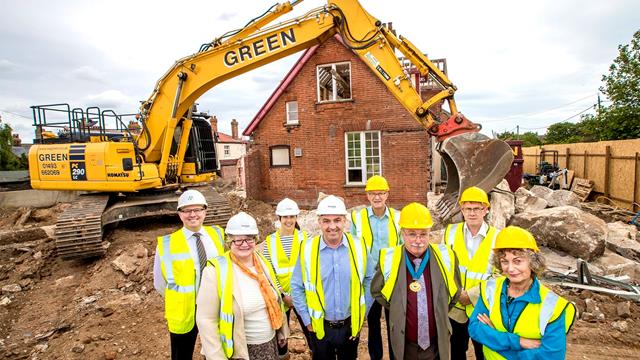 Southwold and Reydon was the first community in the country to buy back its community hospital in order to recycle it for new uses to benefit local people, following its closure by the NHS in 2015. With more than 60% of the town's housing being used as second homes, the campaign to save the building was spearheaded by local community group SouthGen, who feared it would be demolished and redeveloped for private housing.

Through its partnership with rural housing specialists Hastoe, SouthGen is now regenerating the historic hospital to offer nine affordable new homes and a creative community hub for local people to enjoy. Due for completion in early 2021, it's hoped the hub will breathe new life into the area by providing a new home for the town's library, a nursery, space for local businesses, and a farm-to-fork café.

Of the nine affordable new homes, four will be available to rent and five will available for shared ownership to help first-time buyers onto the housing ladder. All nine will be prioritised for people with a local connection to Southwold, such as those working in the town, those with close family in the area, or those who previously lived there but were forced to move out because of a lack of affordable housing.
Southwold's iconic hospital was built and funded by local people almost 120 years ago. As a listed building, great care will be taken during the works to restore as much of the original features as possible, with plans for the Edwardian façade to be returned to its former glory.

Wellington's commercial director James Denny said: "The regeneration of the historic hospital is a flagship project for us, so we are delighted to be getting started with the works. We would not be here without the local community's determination to save a piece of Southwold's heritage, or the dedicated partnership working between ourselves, SouthGen and Hastoe."
Hastoe has recently been shortlisted in the National Housing Award's Best Scheme in Planning category for the community hospital development, with the winners due to be announced in early September. To find out more about the regeneration of the building, visit www.southgen.co.uk