As rural housing specialists, we know that there's more to creating thriving communities than just building homes. Small local businesses are so often at the heart of many communities.
As our Operations Director, George Parkinson, says: 
Hastoe has a longstanding partnership with the Plunkett Foundation, which supports people in rural areas across the UK to grow and develop businesses run and owned by members of the community, on behalf of the community.
During the lockdown earlier this year, many of these businesses were a lifeline to their local communities. They showed resilience and flexibility, and provided support when it was most needed.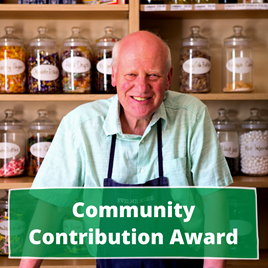 Together with the Plunkett Foundation, we want to celebrate the people and businesses who went above and beyond to help others at the height of the coronavirus pandemic. That's why we're sponsoring the Plunkett Foundation's Community Contribution Award, which has been created to recognise those whose hard work and dedication ensured that community businesses were able to continue providing vital support to their local neighbourhoods during the lockdown.
To help shine a light on the outstanding efforts of local businesses this year, we're calling upon our residents and the general public to nominate their lockdown community heroes.
You can find out more about the award at Plunkett Foundation's Community Contribution Award.
Following the first round of entries, the final three shortlisted nominees will go to a public vote at the end of October. The winner, who will be announced at the Plunkett Foundation's Virtual Fete on Tuesday 24 November, will be awarded a £250 donation towards their chosen community business.