Hastoe Housing Association has won the 'Best Community or Rural Partnership' category of the Inside Housing Development Awards. It picked up the trophy for its collaboration with SouthGen and Wellington Construction to regenerate a former community hospital in Southwold, Suffolk.
The rural housing specialist has partnered with SouthGen, a community benefit society, to turn the town's disused community hospital into nine affordable new homes and a community hub for local people, following its closure by the NHS in 2015.

Fearing the site would be redeveloped into private housing, SouthGen worked with Hastoe to buy the site themselves. It was an innovative transaction in which both partners' involvement was crucial, as SouthGen bought the freehold and sold it to Hastoe, who then provided SouthGen with a 999 year leasehold.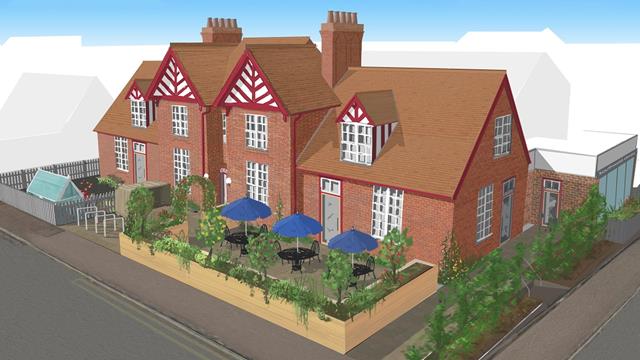 Another key aspect of the partnership is that Hastoe is providing SouthGen with 15% of the space to develop a community hub. The hub will breathe new life into the area by providing a new home for Southwold Library, a nursery, a farm-to-fork café and a co-working space. SouthGen raised nearly £1 million for its share of the works through a £400,000 community share offer and a matching equity award of £100,000 from Cooperatives UK. Grants from the New Anglia LEP, Power to Change and the Architectural Heritage Fund completed the rest of the funding package.
Works began on site in summer 2019, and the new homes are being developed in partnership with Modece Architects, contractors Wellington Construction Ltd, and employer's agent Potter Raper.
James Denny, commercial director at Wellington, adds: "This is a great example of how building a partnership can achieve something special, which would probably not be possible for any one organisation to achieve alone."
Due for completion in 2021, the development will offer four homes for rent and five for shared ownership, to help first-time buyers onto the housing ladder. All nine will be prioritised for people with a local connection to Southwold, such as those working in the town, those with close family in the area, or those who previously lived there but were forced to move out because of a lack of affordable housing.