Building homes the Hastoe way means maintaining high standards at every stage of development. We always develop homes above building regulations and always aim to reduce carbon emissions and increase sustainability. The Hastoe Way is underpinned by our New-Build Standard, which sets out the key elements that are now a minimum requirement for all our new homes.

The Hastoe New-Build Standard 
We've developed our New-Build Standard to introduce efficiencies and a level of standardisation that will improve value for money, whilst maintaining our high development standards. We also want to ensure we are on the right trajectory to meet future changes in government building and safety regulation, such as the Future Homes Standard of 2025 and the zero carbon emissions target set for 2050. 
There are 8 key elements to our New-Build Standard. These are:
Download the Building New Homes: The Hastoe Way brochure
Energy efficiency
Our 'fabric first' approach maximises energy performance, minimises environmental impact, and provides value for money.
We use high levels of wall, loft and floor insulation, combined with high-performing windows and doors.
We take care to prevent thermal bridging during both design and construction phases.
We ensure air tightness, avoiding uncontrolled heat loss through the use of tapes and membranes.
We require each scheme to have a ventilation strategy to ensure good air quality and to avoid moisture build up, condensation and mould growth.
We encourage the use of long-lasting products that are efficient, readily available and easy to repair and replace.


Water consumption
Current building regulations require a water consumption standard of 125 litres per person per day with an optional requirement for water efficiency of 110 litres. The Hastoe New-Build Standard demands that all properties are designed to achieve water usage of 90 litres. Contractors are required to utilise water saving devices such as dual flush toilets, shower timers and low-flow taps which save water without reducing pressure.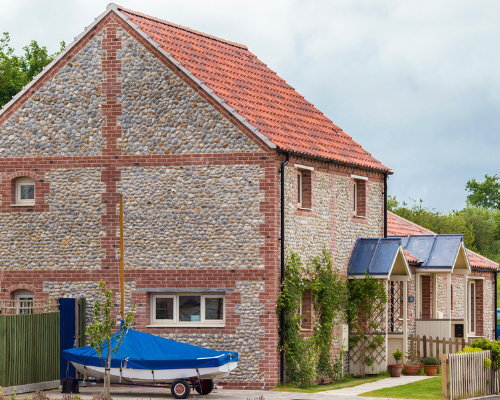 Beautiful design
For Hastoe, building better building beautiful means ensuring all our homes incorporate a range of core qualities including:
Involvement of local communities to make sure we deliver what they need and want.
High-quality materials and designs that are sensitive to the local vernacular.
Quality control to ensure high standards and building safety.
Anticipating future community needs and growth. All our developments are built to the same high-quality standard but no two schemes are the same. We believe it's important to preserve the uniqueness of rural communities and we've won many awards in recognition of our work.
Our design code and design specifications lay out our clear expectations on:
partnerships and processes
layout and setting of a development; starting with the context and history of the village, covering principles for site layouts, orientation, street and public realm, trees and greening
house design (we provide examples setting out options for build form, facades, materials, windows, doors and any additional value)
sustainability and stewardship.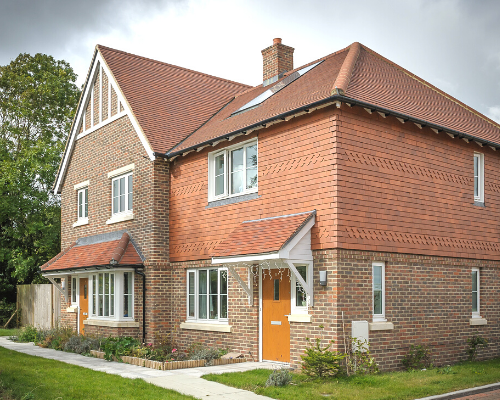 Quality control
All our new homes are built to a standard over and above that required by building regulations. We will only work with contractors who demonstrate a commitment to sustainable development and have a mechanism for dealing effectively with quality control on site.

We have a number of quality control measures in place to ensure high standards and building safety.
All our design briefs will set out our requirements in an easy to understand way. Designers are required to complete a checklist prior to planning submission to provide a clear audit trail for any deviations to the Design Code.
Employer's requirements and specification items are in an easy-to understand format and set out clearly those items that are essential and those that are desirable. This checklist will be used both during and at the end of development to ensure all areas have been complied with.
While using and working with an experienced Clerk of Works service, we also have in-house quality control to enable increased site inspections and to reduce defects. We ensure our development teams have up-to-date knowledge and experience in current construction methods.
We aim to monitor the performance of our homes and neighbourhoods over time and use this to inform our work and improve energy performance.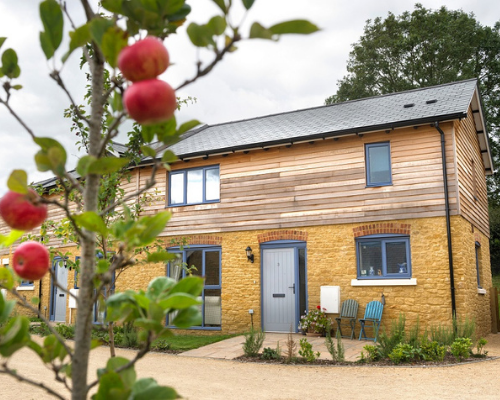 Environment
We want to ensure our homes have minimal impact on the environment and are ecologically sustainable. During the building stage we encourage the repurposing, recycling and upcycling of materials throughout our supply chain. Once built, our homes are efficient and affordable to maintain.
A landscape architect is employed as part of the early design team to ensure greater emphasis on the soft landscaping design proposal. The landscape architect will sign off the final landscape design at completion of the planting scheme.
Where possible we create places that promote health and wellbeing, where cars don't dominate and where low-carbon lifestyles are supported in a rural context.
We build sympathetically to complement the local environment and then enhance the surroundings. Where possible we conserve and create green spaces to maintain local biodiversity incorporating wildflower areas, green corridors or edible herbs and cut flowers in a communal landscaping scheme.
To support local wildlife we install features such as bird, bee and bat boxes and hedgehog-friendly fences wherever possible.
We plant street trees, provide gardens and offer a fruit tree to every resident. Since 2010, our residents have planted over 1,300 trees though the Hastoe Orchard, including eating apple, cooking apple, pear, plum and cherry. The scheme has since been recommended by the Building Beautiful Commission.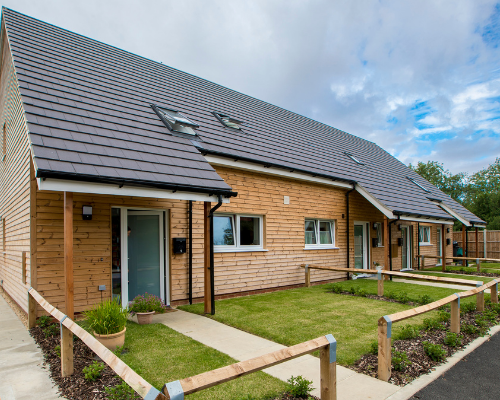 Property size
We use the Nationally Described Space Standards in order to provide a good standard of dwelling size and to ensure the usability of habitable space is well thought through. Designers will be required to verify that all aspects, including storage and room sizes, comply with these standards. The footprints designed should allow for suitable wall thicknesses to be achieved without compromising on internal space.

Accessibility &
Adaptability
While all our schemes are built to meet an identified housing need, we require all our homes to have a level access threshold and the front entrance needs to be able to accommodate a wheelchair user. As a minimum, we also require our houses to be built so they can be adapted as needs change in the future (complying with Building Regulations Part M4(2) accessible and adaptable dwellings).

Where there is an identified need for bungalows we will assess whether these need to be wheelchair compliant. However, some key features will always be incorporated into their design to allow easy future conversion, e.g. accommodating required turning circles, ensuring a bathroom can become a wet room, level access to a suitable charging point for mobility scooters and chairs.

Future proofing
Where feasible, we will consider installing items to meet expectations on future living:
Electric vehicle charging points
Fibre broadband
Oversized radiators to enable easy conversion to a future heat source.
Designing New Homes
We've published a new Hastoe Design Guidance to support our partners involved in developing a new site,
including consultants, architects and contractors, to understand and meet our New-Build Standard.