Cambridgeshire & Peterborough Combined Authority, Burwell Parish Council and East Cambridgeshire District Council have celebrated the delivery of 14 new homes for local people in the village Burwell, built in partnership with rural housing specialist Hastoe.
On Thursday 1 July, representatives from Hastoe Housing Association were joined by its development partners, residents and local councillors, including Roger Thompson, Director of Housing and Development at Cambridgeshire & Peterborough Combined Authority.

Roger Thompson, Director of Housing & Development at Cambridgeshire & Peterborough Combined Authority (centre) cuts the ribbon at Field View, Burwell with representatives from Hastoe, Burwell Parish Council, East Cambridge District Council, AECOM, and DCH Construction.
Affordable houses in Burwell are greatly sought after as many local people can't afford to live in the area, either to rent or buy, due to prices outstripping wages. This has resulted in many moving away from the village they've grown up in and love. To help tackle this, all of the new affordable homes at Field View were prioritised for local people with a connection to Burwell, such as those living in, working in or having close family in the village.
Dr Nik Johnson, Mayor of Cambridgeshire and Peterborough says that social and affordable housing is a key component of their strategy at Cambridgeshire & Peterborough Combined Authority:
The homes have also been provided in a range of sizes and tenures to meet the needs of local people and families at different stages of their lives. Offering a mix of 1- 4 bedroom houses, and 2 bungalows, eight of the 14 homes have been made available for affordable rent, three are for shared ownership and three for sale on the open market. Chloe, a resident of Field View said: ​
Hastoe has a long-established history of building new homes in the village of Burwell. Field View is the housing association's third development at the site, following the first at the neighbouring Barkways in 1996 and the second at Cornfields in 2008.
The new homes were developed in collaboration with a number of local partners, including architects Parsons & Whittley, contractors Duncan, Cameron & Hutchinson, and employer's agent AECOM. They've all been built to a high sustainability standard to help reduce residents' energy use and keep their fuel bills low.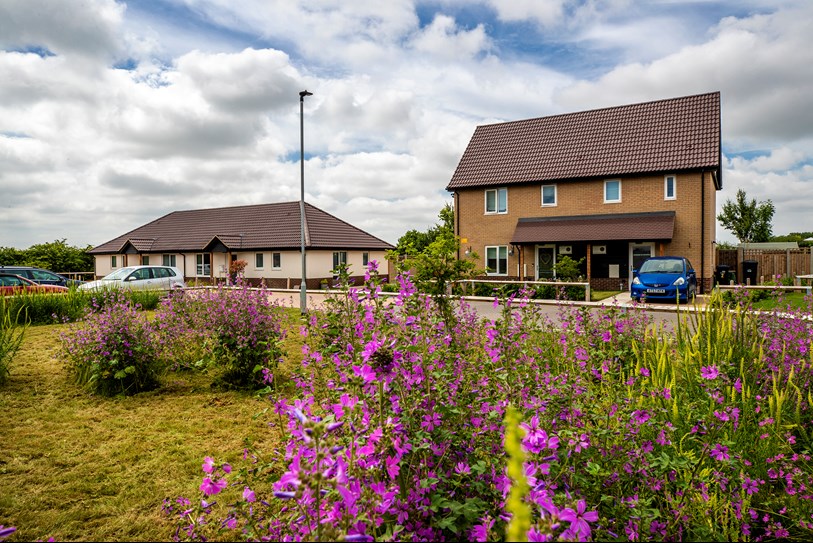 Affordable homes at Field View, Burwell